It seems a very long time since the first 2012 Quiz Leaflet went out, but we can now give you a list of the winners and the answers. Thank you to everyone who took part, and well done to everyone who got all the answers right whether or not you were fortunate enough to win a prize.
Many people told us we'd made it too easy this year, and the number of returned sheets was indeed very high. Others told us they found it quite hard, and maybe the high number of completed sheets we received that turned out to have wrong answers on them bears that out too (we had 1475 returned, of which only 52 were correct, so if you completed yours but didn't send it in you might well have missed out!). Either way, we hope everyone enjoyed the challenge and will be looking out for the new Peterborough Lions Quiz later in the year.
Thank you Peterborough, and well done all!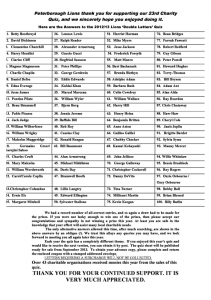 2012 DOUBLE LETTERS QUIZ – WINNERS
£100 D June – Peterborough
£75 D Bennett – Kettering
£50 A Chapman – Glinton, Peterborough
£25 N Griffiths – Grantham
£10 G Baish – Melton Mowbray
£10 J Norman – Peterborough
£10 P Woodhead – Northants
£10 M Nicholas – Seaton, Devon
£10 T Upex – Bourne
£10 P Biss – Peterborough