Quiz Sheets – Past Issues
Peterborough Lions Quiz is a popular pastime and fundraiser alike. It goes on sale each September and is available through Christmas and into the New Year, with quiz entries accepted until the middle of January.
The Quiz Sheets page on this site updates each year with details of the current quiz, so here we summarise the infomation relating to recent quiz sheets.
Past issues are still available to buy online while stocks last!
2020 "Stay Home" Special Quiz
Released just before Easter 2020. our free 2020 "Stay Home" Quiz offered some light relief during the 2020 COVID-19 pandemic lockdown.

In a change to our normal format, 50 free questions with answers relating to activities suited to those of staying at home to protect the NHS and save lives.
Because this was released for free, it can be downloaded below if you missed it, along with the answers.
Errata
None to our knowledge – if you think otherwise let us know!
Answers
2019/20 "Fifty-Fifty"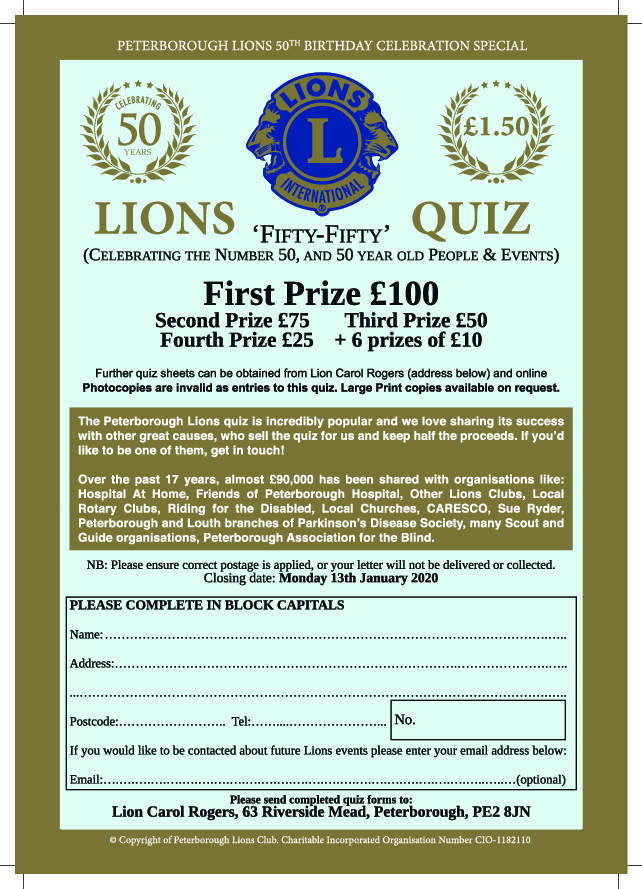 Released on 1st September 2019, our 2019/20 "Fifty-Fifty" Quiz celebrated Peterborough Lions Club's 50th birthday!

Help us to celebrate with 100 questions relating to the number 50, and the people, brands and events sharing our birthday.
Errata
Question 14: Should read "Fast route to Wales"
Question 17: Answer should be 2.8 letters
Question 77: Should read "Issued in 1969"
Answers
Winners
First Prize (£100): R Hill (Co. Donegal)
Second Prize (£75): C Martin (Ely)
Third Prize (£50): J Baker (Chesterfield)
Fourth Prize (£25): T Carvill (Co. Down)
Runners up (£10 winners):

C Chantler (Bath)
A Ashenhurst (Exeter)
V Reis (Chelmsford)
A Granville (Peterborough)
P Burden (Wokingham)
B Stone (Crawley)
2018/19 "Heroes and Villains"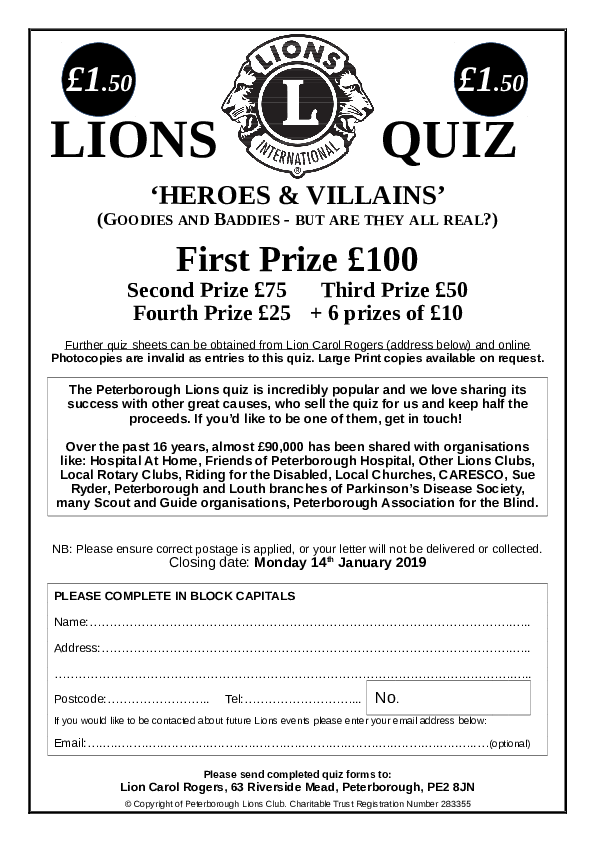 Released on 1st September 2018, our 2018/19 "Heroes and Villains" Quiz was a tribute to Lion John Cheetham, who created Peterborough Lions Quiz many years ago and who passed to higher service earlier in the year.

Help us to celebrate with 100 questions relating to heroes and villains, real and imaginary.
Errata
Question 15: Should read "29 Acacia Road"
Question 82: A great Telford rival
Answers
Winners
First Prize (£100): L Paterson (Tillicoultry)
Second Prize (£75): J Fletcher (St Albans)
Third Prize (£50): J Myhill (Melksham)
Fourth Prize (£25): D Baker (Daventry)
Runners up (£10 winners):

J Catling (Peterborough)
A Lyniburn (Market Deeping)
D Nash (Gloustershire)
C Pairman (Tillicoultry)
U Murray (London)
S Jones (Derby)