Peterborough Lions Carol Float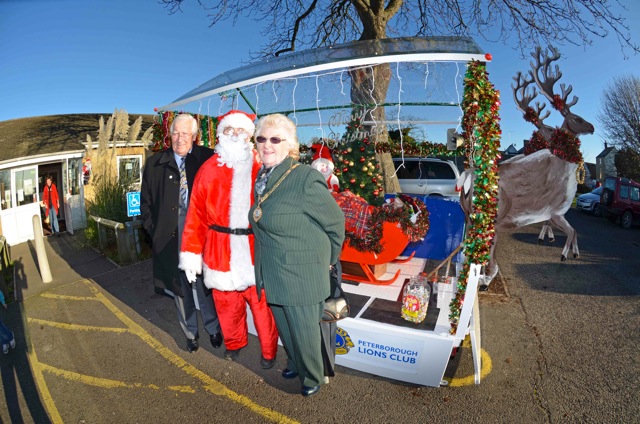 Every year, Santa joins Peterborough Lions for some cheerful seasonal songs and to collect money for our funds to support local causes.
You can find Santa outside supermarkets in the Peterborough area in December. And in recent years Santa has been taking his sleigh out around Peterborough houses to bring good cheer to you without you leaving home to find him!
The dates and routes for 2019 are below:
Saturday/Sunday 7th/8th December: Morrisons, Cardea/Stanground (Static)
Tuesday 10th December: Werrington (Mobile)
Note: This is a change of date due to the short notice General Election.
Wednesday 11th December: Orton Wistow (Mobile)
Friday/Saturday/Sunday 13th/14th/15th December: Sainsbury's, Bretton (Static)
Tuesday 17th December: Stanground (Mobile)
Thursday 19th December: Netherton (Mobile)
Saturday/Sunday 21st/22nd December: Morrisons, Lincoln Road (Static)
Monday 23rd December: Sainsbury's, Oxney Road (Static)
Mobile routes are as follows, but are subject to change depending on weather, roadworks, and other things outside Santa's control. We aim to set off around 6pm and to finish around 8pm (and no later than 9pm).
Werrington:
Starting at "The Cock Inn", proceed to Canterbury Road.
Turn left onto Canterbury Road, right onto Edinburgh Ave, and left onto Bristol Ave.
Then turn right to go around Wells Close, left onto Bristol Ave again and right onto Lichfield Ave.
Then right again back onto Canterbury Road, before continuing right onto Salisbury Road.
Turn left into Coventry Close, left again (still on Coventry Close), and continue to end of close, before turning back to return to Salisbury Road, turning right and continuing to Lincoln Road.
Finally a left turn back towards "The Cock Inn"
Orton Wistow:
Starting from Ferry View, then take in as many of the following as time allow:

Farleigh Fields
Shearwater
Wyndham Park
Whitewater
Five Arches
GlendaleLinnet
Stanground:
Start on Romany Gardens
Head left onto Southfields Ave, and right onto Southfields Drive
At Co-Op turn left onto Lawson Ave
Turn right onto Coneygree Road
Turn right onto Kingston Drive, then right again onto Southfields Ave
Turn left onto Romany Gardens
Cross Whittlesey Road to turn onto Central Square
Turn left onto Desborough Ave, right onto Poulter Ave, and left onto Oakdale Ave
Near the end of Oakdale Ave turn left onto Allan Ave
Finally turn right onto Wright Ave, ending at Whittlesey Road
Netherton:
Start at top of Atherstone Avenue near St Jude's Church
Turn left into Meynell walk, then follow it before turning left back to Atherstone Avenue
Follow Atherstone Avenue onto Ledbury Road
Turn right into Tiverton Road, then right into Berkley Road, left into Morpeth Road, left into Grafton Avenue, and right onto Berkley Road again
Turn right into Thorpe Park Road
Turn right into Audley Gate
Turn left back into Ledbury Road then left into Bradwell Road
As always we are extremely grateful to everyone who comes and says hello, and who helps us raise money for local projects. We look forward to seeing you soon!