Peterborough Lions Carol Float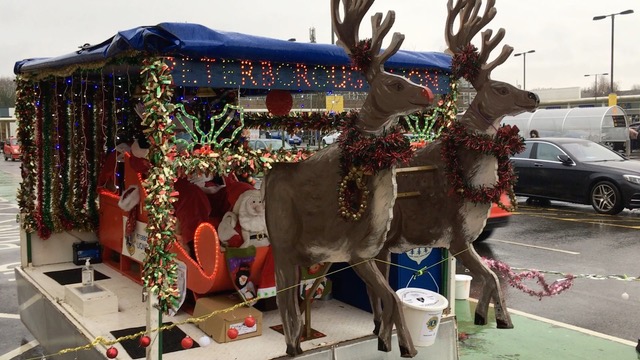 Every year, Santa joins Peterborough Lions for some cheerful seasonal songs and to collect money for our funds to support local causes.
You can find Santa outside supermarkets in the Peterborough area in December. And in recent years Santa has been taking his sleigh out around Peterborough houses to bring good cheer to you without you leaving home to find him!
It's 2023, and Santa is heading back to Peterborough!
STATIC FLOATS
As usual, you'll find us outside various supermarkets in the run-up to Christmas. You'll also find us popping up at other events – see below for dates and locations.
MOBILE FLOATS
Our trips around Peterborough streets with Santa are well received and a highlight of our year, as well as being one of our biggest fundraisers.
We are working hard to make sure that we can bring Santa to you where we can (even though we won't be able to fundraise), but we are still waiting on the insurance and authorisation to proceed – watch this space, or follow us on Facebook!
We will be out again this year – Santa insisted! If you come out onto the street to see us, please be mindful of those around you.
You will be able to track Santa on the night using his tracker, technology permitting! And don't forget to follow our Facebook Page for updates.
As we cannot stop we would expect to operate the routes faster than usual; typically 6pm-8pm for Orton Wistow and Stanground, 5pm-7pm for Netherton as it's on a Sunday.
YOU CAN STILL SAY HELLO TO SANTA!
Going to miss us? If you email we'll make sure your email is passed on to Santa. So if you have any questions, or want to tell him what you want for Christmas, or just want to say "Hi", drop him a line!
The dates and locations for static floats are:
Tuesday 5th December – Hampton Gardens
Join us at Hampton Gardens School for their first "Festive Event". Meet Santa, eat burgers, drink mulled wine, and sing along with the Salvation Army brass band!
Saturday 9th and Sunday 10th December: Morrison's, Cardea
Saturday 16th December: Sainsbury's, Oxney Road
Wednesday 20th and Friday 22nd December – Ortongate Centre (2:30-4:30pm)
Saturday 23rd and Sunday 24th December (Christmas Eve): Sainsbury's, Bretton Centre
The dates and locations for mobile "Santa on Tour" floats are below:
Sunday 17th December: Stanground
Wednesday 20th December: Orton Wistow
Friday 22nd December: Netherton
Sunday 24th December: Orton Waterville
Mobile routes are as follows, but are subject to change depending on weather, roadworks, and other things outside Santa's control. On weekdays we normally aim to set off around 6pm and to finish around 8pm (and no later than 9pm). On weekends we set off earlier, around 4:30-5pm, depending on Santa's schedule that day.
Stanground – Sunday 17th December:
4:30pm start on Romany Gardens
Head left onto Southfields Ave, and right onto Southfields Drive
At Simply Local turn left onto Lawson Ave
Turn right onto Coneygree Road
Turn right onto Kingston Drive, then right again onto Southfields Ave
Turn left onto Romany Gardens
Cross Whittlesey Road to turn onto Central Square
Turn left onto Desborough Ave, right onto Poulter Ave, and left onto Oakdale Ave
Near the end of Oakdale Ave turn left onto Allan Ave
Finally turn right onto Wright Ave, ending at Whittlesey Road
Orton Wistow – Wednesday 20th December:
6pm start in Ashleigh, then take in as many of the following as time allow:
Ashleigh
Svenskaby
Lyndale Park
The Rookery
Whitewater
Wyndham Park
Farleigh Fields / Shearwater
Glendale
Borthwick Park
Five Arches
Netherton – Friday 22nd December:
6pm start at St Jude's Church
Right into Atherstone Avenue
Left into Bradwell Road
Right into Elmore Road (Right hand side only)
Back up Elmore Road (Left hand side only)
Right into Bradwell Road (Right hand side only)
Back up Bradwell Road (Left hand side only)
Right into Ledbury Road
Right into Audley Gate
Left into Berkley Road
Left into Grafton Avenue
Right into Morpeth Road
Right into Berkley Road
Left into Tiverton Road
Right into Ledbury Road
Left into Wilton Drive
Right into Atherstone Avenue
Right into Charlotte Way
Finish at The Grange venue
Orton Waterville – Sunday 24th December:
5pm start at Windmill Pub, then
Cherry Orton Road
Glebe Avenue
New Road
Church Drive
Overton Way/Valence Road
Wyman Way
Pembroke Avenue
Aboyne Avenue
Lady Lodge Drive towards Telephone Exchange/Elstone
Oundle Road
Finish at Windmill Pub
As always we are extremely grateful to everyone who comes and says hello, and who helps us raise money for local projects. We look forward to seeing you soon!