It's About Time (Quiz 2021-22)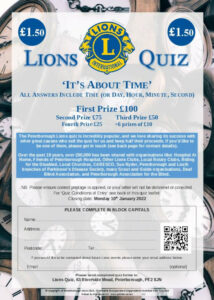 Thank you for your interest in Peterborough Lions 2021-22 Quiz: "It's About Time"!
This quiz competition has now closed, and the answers are available here.
However, you can still purchase copies of this and other past quizzes online in our store for fun and fundraising purposes.
You can find more information about the quiz, including terms and conditions, here.
If you think you've found an error, you can check for errata or contact us to report it.