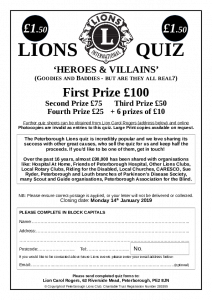 Our famous LIONS QUIZ SHEETS 2018/19 edition, will be available, bang on time, from the 1st of September 2018.
Where to get it
Lions volunteers can often be found at supermarkets and other locations selling the quiz, and they are also on sale from other shops and locations. We are heavily dependent on the support of supermarkets and other local businesses and charities for their help selling the quiz (with charities retaining 50% of the sale value towards their own fundraising efforts).
The 2018/19 Quiz will be available to purchase from the 1st of September 2018; click on 'Quiz Sheets' in the menu for locations where they can be purchased and collected. Any local business that would be interested in helping us sell the quiz should contact us – we really would love to hear from you!
If you can't get to one of the locations in person, then don't worry because for a postage and handling fee of £1 (no matter how many you order) you can buy them online. Or, if you prefer, you can send a large stamped addressed envelope with a cheque for £1.50 for per quiz sheet to:
Lion Carol Rogers
63 Riverside Mead
Peterborough
PE2 8JN