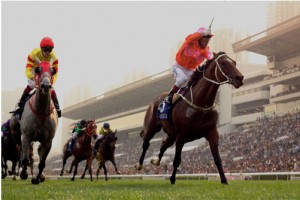 Peterborough Lions are excited to invite you to our 2015 Race Night, at 7:30pm on Saturday 20th June at Eye Community Centre.
Those who attended last year will recall that we were packed out so this year we've moved to our new venue in Eye. Everyone is welcome and is sure of a great night out, and if you're lucky you might even win a little bit of cash into the bargain!
We are looking for Race Sponsors (£30/race, which include a 3/4 page A5 advert in the program and admission for two people) and Horse Sponsors (£8/horse, includes admission for one person and a chance to win the winner's prize). General admission is £3 on the door and includes a light buffet. A licensed bar will be available throughout the evening.
This year's Race Night is being run as a memorial to Lion John Clarkson who sadly passed away late last year. Lion John was a very active member of our club, a key organiser of main fundraisers like our annual Carol Float, and someone who would have been heavily involved in this Race Night were he still with us. It would be fantastic if we could make this our biggest and best Race Night ever!
For more information please contact Lion Bill Peacock or use our contact form.