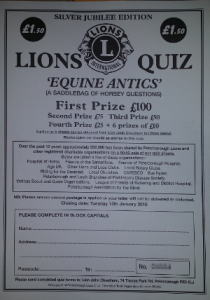 September is here, which can only mean one thing: 2014's Peterborough Lions Quiz is here!
As usual you'll be able to pick up a copy from one of several local shops and charities (if you'd like to support us by selling the quiz please get in touch), or directly from us in person at one of several locations throughout the city over the next couple of months – check out our diary for locations and dates. You can also buy them online (£1 postage charge applies no matter how many you buy, and we still have some of last year's available if you missed it).
This year the theme is "Equine Antics (a saddlebag of horsey questions)", so if you know your Shetland ponies from your shire horses you should have an advantage – but if you don't, not to worry because the connection to horses is pretty loose, and as usual it's all a bit of fun (horseplay?). The price is unchanged from the last couple of years at £1.50, and you can win prizes of up to £100!
For those of us who have been around a while this might not come as a surprise, but can you believe that the Peterborough Lions Quiz has been going for 25 years? That makes this our silver jubilee!
The quiz was devised by Peterborough Lions John & Sheila Cheetham, who both remain valuable club members all these years on and are now nominated together for a community award. If you love the quiz please take a look, and vote for Lions John & Sheila!