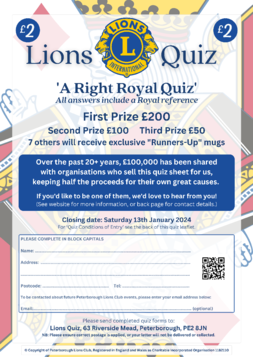 Yes, it's finally here – 2023's Peterborough Lions Quiz is now available to buy!
Marking the coronation of our new King, "A Right Royal Quiz" brings 100 questions, where each of the answers has some connection to royalty.
As always there are cash prizes to be won – with a new top prize of £200. Entries close on 14th January 2024 so you have plenty of time!
Available now to buy online at £2/ea (plus £1.25 per order for UK shipping), with stock going out to local stockists over the coming days and weeks.
If you would like to help Peterborough Lions Club raise money for "Light Project Peterborough" (supporting Peterborough's homeless get off the streets) amongst other local projects please get in touch. And if you have a good cause of your own that you'd like to raise money for, we can support you by supplying quiz sheets to sell on a 50:50 basis.