Community Minibus
For more years than we care to remember*, Peterborough Lions have owned and maintained a minibus for community use (our current minibus has been with us nearly a decade), which has enabled many community projects to proceed – from local Scouts outings or seaside trips for the elderly or disadvantaged, to supporting Chernobyl Children.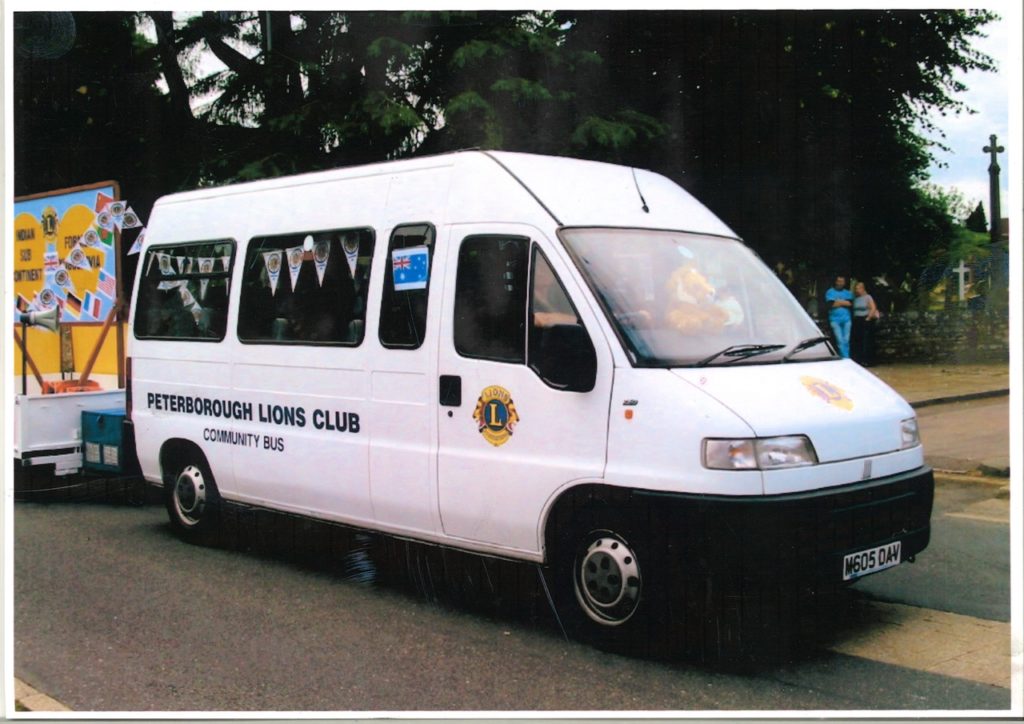 Peterborough Lions cover the maintenance and insurance costs of the vehicle. Community groups wishing to use the minibus are required to provide their own driver and cover fuel costs, and to return the minibus clean and tidy fully fueled for the next user (as it was when they collect it).
Organisations wishing to use the minibus should contact us indicating the dates they would like to use the minibus. We will need the name of the driver and proof that they are qualified to drive the bus before it is collected.
Whilst there is no charge for use of the minibus, many of its users do make a donation towards its running costs and we are extremely grateful for that assistance in providing this community resource.
"I would like to thank Peterborough Lions for your support of Scouting in Peterborough over many years.

"With the use of the Peterborough Lions Community Minibus the groups that I have been involved with have been able to take Scouts (aged 10-14) Explorers (14-18) and supporting adults to the following places with minimum (fuel only) transport costs.

"I hope you are able to get funding for a replacement vehicle to continue your support to Scouting and other organisations in Peterborough."

Testimonial from Greg Jones, Joint SL, Apollo Troop, 2nd Nene Scouts
www.2ndnenescouts.org.uk
NOTICE:
DUE TO AN UNFORTUNATE ACCIDENT THE MINIBUS HAS BEEN DAMAGED BEYOND ECONOMIC REPAIR. WE ARE ACTIVELY TRYING TO FUND A REPLACEMENT. APOLOGIES FOR THE INCONVENIENCE THIS MAY CAUSE.

We are pleased to report that whilst the damage to the minibus was substantial enough for the insurance to write it off (due to the number of panels affected) nobody was hurt in the accident. We are working hard to replace this community resource as soon as possible.
* Aside from a few gaps we've has a minibus available for community use since 1982. Our new minibus should push us well into four decades of service, and all of that is entirely thanks to the generosity of our supporters.